NHTSA Campaign Number: 17V796
Manufacturer Aston Martin The Americas
Components POWER TRAIN
Potential Number of Units Affected 3,493
Park Pawl may not Engage, Allowing Vehicle to Move
If the park pawl does not engage and the vehicle is stopped on a slope and exited without the parking brake being applied, the vehicle may unexpectedly roll, increasing the risk of a crash.
Summary
Aston Martin The Americas (Aston Martin) is recalling certain 2009-2016 DB9, 2009-2012 DBS, 2010-2015 Rapide, 2012 Virage, and 2014 Vanquish vehicles equipped with a 6-Speed Touchtronic II Automatic Transmission. A communication error between the Engine Control Module (ECM) and the Transmission Control Module (TCM) can cause the transmission park pawl to not engage.
Remedy
Aston Martin will notify owners, and dealers will update the TCM software, free of charge. The recall is expected to begin February 1, 2018. Owners may contact Aston Martin customer service at 1-888-923-9988. Aston Martin's number for this recall is RA-07-0028.
Notes
Owners may also contact the National Highway Traffic Safety Administration Vehicle Safety Hotline at 1-888-327-4236 (TTY 1-800-424-9153), or go to www.safercar.gov.
---
SAFETY RECALL ACTION
Reference number:
RA-07-0028
Issued: 18 December, 2017
Subject:
6-Speed Touchtronic II Automatic Transmission Park Lock Problem
Model(s):
DB9, DBS, Virage, Rapide, Vanquish
VIN range:
Refer to the attached list of affected Vehicle Identification Numbers (VINs)
Applicable to:
All Dealers
Distribute to:
After Sales Manager Warranty Staff

Executive Manager Technician(s)

Service Manager Parts Staff

Sales Manager
Attached Documents:
Appendix A – Table that Shows the Quantities of Affected Vehicles.
Copy of the Owner Notification letter for vehicles in RA-07-0028.
Copy of the Change of Keeper or Address form.
Reason for this Safety Recall Action NHTSA ID: 17V796
Aston Martin has found a defect which relates to motor vehicle safety on a range of DB9, DBS, Virage, Rapide and Vanquish vehicles manufactured between the dates of February 2008 to July 2016, which have the 6-Speed Touchtronic II Automatic Transmission.
The cause of the problem is a communication error between the Engine Control Module (ECM) software and the Transmission Control Module (TCM). This can cause the transmission park pawl to be held out. When the transmission park pawl is held out, this can let the vehicle to roll away from its parked position.
This problem can occur when all of the following conditions are met:
a) the vehicle key is removed from the ignition control and the engine speed is more than 450 rpm;
b) the driver does not select Park;
c) the driver does not engage the park brake;
d) the vehicle is not parked on level ground; and
e) there is a communication error between the ECM and the TCM.
This Safety Recall Action is applicable to the vehicles that follow:
To correct this problem Aston Martin will update the software for the Transmission Control Module (TCM). 
The full list of VINs for the affected vehicles is on the Dealer Communication System (DCS) portal as an attachment to this Safety Recall Action document.
PLEASE DO A CHECK OF ALL VEHICLES THAT ARE IN THE AFFECTED VIN LIST
Legal Requirements
The National Traffic and Motor Vehicle Safety Act, as amended, provides that each vehicle which is subject to a safety recall campaign of this type must be adequately repaired within a reasonable time after the owner has tendered it for repair. Failure to repair within sixty (60) days after tender of a vehicle is prima facie evidence of failure to repair within a reasonable time.
If the condition is not adequately repaired within a reasonable time, the owner may be entitled to an identical or reasonable equivalent vehicle at no charge, or to a refund of the purchase price less a reasonable allowance for depreciation.
To avoid having to provide these difficult solutions, every effort must be made to promptly schedule an appointment with each owner and to repair their vehicle as soon as possible. As you will see in reading the attached copies of the letters that are being sent to Owners, the Owners are being instructed to contact Aston Martin Customer Service if their Dealer does not correct the condition within three (3) days of the mutually agreed upon service date. If the condition is not corrected within a reasonable time, they are instructed on how to contact the National Highway Traffic Safety Administration.
IMPORTANT: We remind you that it can be a violation of Section 30120(i) of the Federal Motor Vehicle Safety Act required under this notice if a Dealer sells or leases a vehicle that is covered by this notice without first completing the repair.
Communications
We will write to every owner directly to tell them about this Safety Recall Action. A copy of the letter is attached at the end of this Safety Recall Action for your information. There is also a copy of the "Change of Keeper or Address" form.
When the Owner calls to make an appointment, briefly describe the repair which will be done to the Owner's vehicle and fully explain the reason for this work. Tell the owner that the repair will be done at no cost to them.
Service Reception Desk – Checks you must do before you book the vehicle in.
When you make a reservation for a Customer that you confirm the name and contact details are correct in Aston Martin's records. To do this, please do the steps that follow:
Enter the vehicle's 6-digit chassis number into DCS (amdealers.com) and click "Validate" (refer to Figure 1).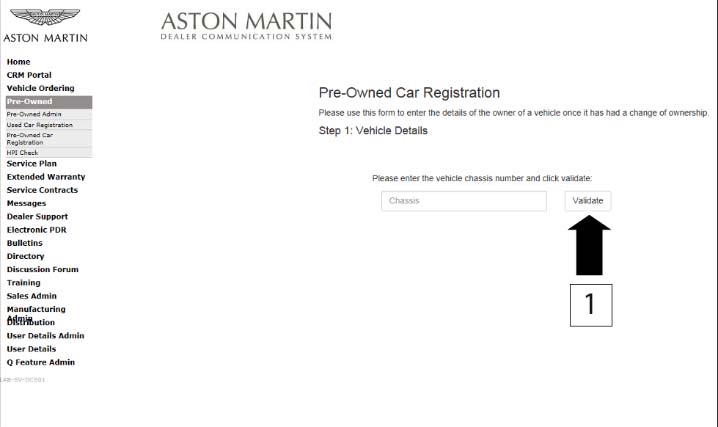 Figure 1
Make sure that the vehicle details are correct. If the current owner is correct, no action is necessary.
Make sure that the Customer name is correct. If the data is correct, then no action is necessary.
To update the Customer details, use the search feature to find the customer in your Synergy database (refer to Figure 2).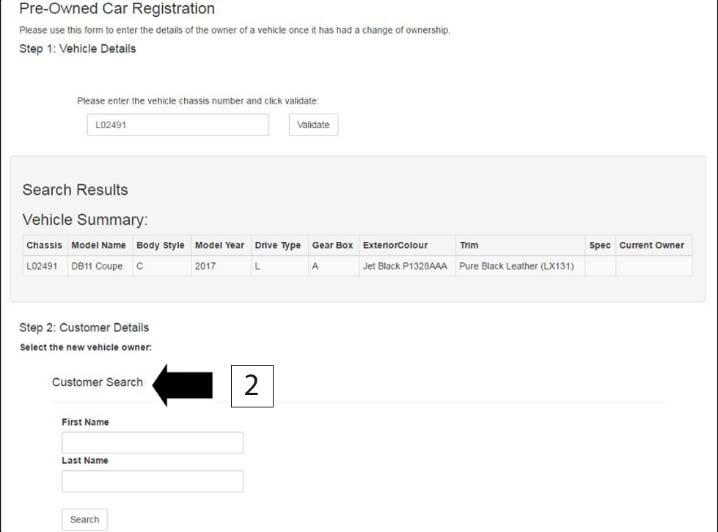 Figure 2
Note: The Customer record and updated details must have been entered into Synergy before you try to transfer the ownership in DCS.
If the correct Customer shows, click "confirm".
If the correct Customer details do not show, click "add new".
Before you start work
Log on to the Online Dealer Warranty (ODW) system. Do the steps that follow:
Select the Warranty Live screen (Outstanding Campaigns Status).
Download the VIN list from DCS and do a check of the VINs in your control.
Find out if there are other open Service Actions (SAs) or Recall Actions (RAs) for the vehicles in the list.
List the SAs and RAs and plan the work so that the Owner only needs to come to your Dealership once.
Note: The ODW system operates in real-time. Thus, the online condition shows only the newest Dealer Warranty Claim submissions.
Workshop Procedure
CAUTIONS: CONNECT A BATTERY CHARGER TO THE VEHICLE BATTERY DURING THE PROCEDURE THAT FOLLOWS. IF THE VEHICLE BATTERY DISCHARGES DURING THE PROCEDURE, THE
SOFTWARE UPDATE CAN FAIL. THIS CAN CAUSE DAMAGE TO THE TRANSMISSION CONTROL MODULE (TCM).
CONNECT THE AMDS TO AN ELECTRICAL SUPPLY WHEN YOU DO THE PROCEDURE THAT FOLLOWS. IF THE AMDS BATTERY BECOMES DISCHARGED DURING THE SOFTWARE UPDATE, THE UPDATE CAN FAIL AND CAN CAUSE DAMAGE TO THE TCM.
Set the ignition to ON but do not start the engine.
Connect the Vehicle Communication Interface (VCI) to the vehicle with the Diagnostic Link Cable (DLC) (refer to Service Bulletin SB-00-0379).
Use AMDS to update the AMDS software to the latest release.
Use AMDS to update the software for the TCM to the latest release.
Use AMDS to do a check and erase applicable Diagnostic Trouble Codes (DTCs).
Set the ignition to OFF and fully remove the vehicle key from the ignition control.
Disconnect the battery charger from the vehicle battery.
Disconnect the AMDS equipment from the electrical
Warranty Data
Make sure that you submit your claim in less than 24 hours after the work is completed. The records of your claims are used in the reporting process for the Safety Recall Action that Aston Martin need to submit to the National Highway Traffic Safety Administration.
Procedure and Labour Time
| Description | Labour Time |
| --- | --- |
| Update the software for the TCM. | 0.2 hours |
Please Note:
When you have completed this Safety Recall Action, make sure that you make an entry in Section A of the Vehicle Owner's Guide to show that the procedure is completed.
Appendix A – Table that Shows the Quantities of Affected Vehicles in the US Market Note: Please refer to the list on DCS for the vehicles in your region.
| Model | Registered & AMLNA Fleet (RA-07-0028) | Port & Dealer Not Registered (QN-07-0082) | Build Range (MM/YY) |
| --- | --- | --- | --- |
| DB9 | 1462 | 9 | 02/08 – 07/16 |
| DBS | 382 | 0 | 05/08 – 09/12 |
| Rapide | 880 | 1 | 02/10 – 10/14 |
| Virage | 276 | 0 | 10/10 – 09/12 |
| Vanquish | 483 | 0 | 03/12 – 08/14 |
| TOTAL | 3483 | 10 | 02/08 – 07/16 |
If you have any questions related to this Recall Action, please contact: Aston Martin Technical Services on: +44 (0) 1926 644720, email: [email protected], or contact your After Sales Manager.
The English version of this Recall Action is written in  Simplified Technical English to ASD-STE100™.
---
https://static.nhtsa.gov/odi/rcl/2017/RCMN-17V796-2726.pdf
---
https://static.nhtsa.gov/odi/rcl/2017/RCAK-17V796-1607.pdf
---
Bestseller No. 1
Autel MaxiCOM MK808 Automotive OBD2 Scanner (Combination of MaxiCheck Pro and MD802 All Systems) with Oil Reset, EPB, BMS, SAS, DPF, TPMS and Immobilizer
Advanced functions: Read/clear codes for all available systems ( including engine, transmission, ABS and AIRBAG ), Bi-directional control ability, Support auto bleed test, Forced DPF regeneration and adjusting injectors, Relearn parking brake pad after replacement (brake reprogramming), IMMO functions (key configuration)
Superior features: Relearn/ reset throttle body positions, Reset Steering Angle Sensor (SAS, steering wheel calibration), Reset service mileage and service intervals, TPMS sensor relearn, Battery registration and reset, Reading automatic gearbox, Shows the vehicle's operation graphs, Adjust idle/ Relearn idle, Cycle the abs system to evacuate air, Bleed ABS pump/ ABS bleeding brake
Cost-effective: The automotive diagnostic scanner supports basic TPMS Service (Tires Pressures Monitoring System), including displaying sensor IDs from vehicle's ECU, inputting TPMS sensor replacement IDs and registering sensors to vehicle
Extensive vehicle coverage: More than 80 US, Asian and European vehicle makes after 1996. Smart AutoVIN technology for identifying vehicles easily
Warranty & update: 12-month warranty and 12-month free online update. Automatic system and software updates with real-time push message notifications via Wi-Fi
Bestseller No. 2
Autel Maxisys Pro MK908P(MS908P/MS908SP) OBD2 Diagnostic Scanner For ECU coding, Active Test, J2534 Reprogramming (Same as Maxisys Elite, Upgraded Version of Maxisys Pro) With Free Car Battery Tester
🚗ECU PROGRAMMING: This Diagnostic scanner comes with a SAE J2534-1 & -2 compliant PassThru reprogramming interface device which allows you to use the updated OEM software to replace the existing software/firmware in ECUs, programming new ECUs for Benz/BMW and fixing software-controlled drivability issues and emission issues. We welcome you to contact [email protected] or ask through Q/A for your specific need.
🚗SUPERIOR HARDWARE: The Maxicom MK908P is a upgraded version of the Maxisys Ms908P/Pro,it with Android4.4 based system amd super-fast hexa-core Processor, 2GM RAM, 64GB On-board Memory, 8.0 Megapixel rear cam, ultra-clear 10.1 inches LED screen etc.
🚗COMPREHENSIVE FUNCTIONS: Autel MaxiCOM MK908P performs the same function as Autel Maxisys Elite, Autel MS908S PRO, MS908E, and provide better price. this superior diagnostic device is awarded as the Best Vehicle Diagnostic Tool in Britain.12-month free updates,basic functions could still be used without updates.
🚗WIDE VEHICLE COVERAGE: Extensive OE-Level vehicle coverage for more than 80 US, Asian and European vehicle makes.It's an ultimate car scanner for DIYers, experienced mechanics, even garage to finish professional-level vehicle repair and maintenance. To check compatibility, contact [email protected] or ask through Q/A, we will reply you in time.
🚗Multi-ADD ONS:This Autel Scanner could connect the Oscilloscope-MaxiScope MP408 and Digital Inspection Cameras for vehicle's electronic test or get the sight in the tight spaces. We offer you a free ArtiBattery101, making you easily get the Battery Test Results. This car battery Tester is recommended by Soctty Kilmer and BestReviews. It can directly detect the battery data and give suggestions on whether to replace the battery. It also has cranking test and charging system test.
Bestseller No. 3
Autel MaxiCOM MK908P Diagnostic Scanner Automotive Scan Tool with ECU Programming and J2534 Reprogramming + Free Oscilloscope MaxiScope MP408
【SUPERIOR CODING & PROGRAMMING】 Supports coding and programming especially for BMW and Mercedes. With the VCI of MK908P for SAE J2534-1 and J2534-2 protocols, it can replace the existing software and firmware in ECU without expensive original equipment.
【WIDE DIAGNOSTIC SOLUTIONS】 Well capable of VCM coding and programming, TPMS coding, intelligent cruise control (ICC), ECU coding, live data, dashboard matching, airbag system reset, anti-theft key matching and more.
【POWERFUL DIAGNOSTIC TOOL】 The oscilloscope MP408 combine with MaxiCOM MK908P is able to measure and test virtually all the electrical and electronic components and circuits in any modern vehicles, providing you an insight to the inner workings of a vehicle's electronic circuits.
【HIGH-EFFICIENCY OF USE】 Being MS908P upgraded, it is Autel's latest and most sophisticated diagnostic scanner which boasts the best hardware including Hexa-CPU, 2GB RAM etc. for fast boot-up and multitasking, and the ergonomic design to resist damage of heavy use.
【WARRANTY & UPDATE】 You can get quality related services within 12 months warranty, besides, 12 months free online update is available for the latest bug fixes and newly added parameters and car models.
Bestseller No. 4
Autel Best Match Maxisys Pro MK908P(MS908P/MS908SP)+TS401+Free Car Battery Tester AB101|MK908P OBD2 Diagnostic Scanner for ECU Coding, Active Test, J2534 Reprogramming (Same as Maxisys Elite,| TS401
🏆 Autel MK908P, as a high-end vehicle diagnostic tool developed from Autel, featuring the complete diagnostic functions including ECU programming for BMW and Benz etc., and the advanced configuration (Android 4.4.2 KitKat OS, 8.0 Megapixel rear cam, ultra-clear 10.1 inches LED screen), is the ideal scanner for professional mechanics and auto repair stores to perform all-around fixes and comprehensive tests.
🏆 Autel MaxiTPMS TS401, AN AFFORDABLE TPMS DIAGNOSTIC TOOL TS401 is a new generation TPMS diagnostic & service tool which features unparalleled sensor coverage and incredibly easy-to-use interface. This ergonomic tool provides you easy and quick access to the faulty TPMS sensor to help you boost your bottom line.
🏆 ArtiBattery101 is a small-size battery tester that adopt the most advanced conductance test technology, and capable of the actual Cold Cranking Amps test, the health status test, and the quick detection of car starting and charging systems. It provides you with easy, quick, and accurate diagnoses in car battery to facilitate your repairs.
Bestseller No. 5
ANCEL FX6000 OBD2 Scanner with All System Automotive Code Reader Vehicle OBDII Diagnostic Scan Tool for Engine ABS SRS Transmission DPF TPMS EPB IMMO ECU Programming & Coding
ADVANCED ECU CODING & PROGRAMMING - Exceptional functionality diagnostic tool from comprehensive OBD2 scanner diagnostics & services to advanced ECU coding and programming. Just connect the scanner port directly to the OBDII DLC in your vehicle and no need any battery or charger
COMPREHENSIVE DIAGNOSTIC FUNCTIONS - This obdii scanner can give a overall checking of the vehicles, diagnose on both Diesel and Gasoline vehicles, including Engine Transmission ABS SRS (Airbag) EPB Oil service reset SAS Steering Angle TPMS IMMO and Other diagnostic systems
OBD2 DIAGNOSTIC - This vehicle code reader supports all 10 OBDII test modes, it can scan more than 95% domestic old vehicles for view live data (in text/graphic format), read freeze frame, read and clear history or current codes, O2 sensor test, I/M Readiness checking that can quickly test every system module status and faster diagnosis and maintenance
EXTENSIVE COVERAGE & MULTI-LANGUAGE - Works on MOST 1996 US-Based, 1996 EU-Based and 1996 Asian-Based cars or newer OBD II/Eobd & CAN domestic or import vehicles, this automotive scanner supports English, Russian, Spanish, Polish,Dutch, Portuguese, German, French, Korean
FX6000 OBD2 scanner is well built with a large and high-definition TFT screen, easy-to-read UI and thousands of DTC tips. The unique FN hot key allows custom your own Favorites on the main menu for the next car testing directly. TWO YEARS free update online to fix the latest bugs or add newer parameters
Bestseller No. 6
VXDIAG VCXNANO-PW160 Auto Diagnosis Scan Tool for GM/OPEL GDS2 Tech2 Car Code Reader Scanner WiFi Version for Chevrolet Vehicle for Cadillac for Opel for Saab Diagnose Engines 2009-2017years Cars
---【Guarantee】---:1/Year Free Update; ① ------Before purchase, suggest message us with your car brand ,model, productive year and the function you require. ②------ Work with computer Win7 System, 32bit, I5CPU 4G RAM , software Installation is a little complicated, We Support Remote help, feel free to contact us please
---[Function]---: Work for GM vehicle for Buick, for Chevrolet, for Cadillac ( 2005-2017 Years); for Opel and for Saab ( 2009-2017 ) diagnose engines, OBD II Code reader, clear fault code, transmissions, ABS, instrument panels etc. Program and coding require online account, we don't offer.
---[Compatible]---: ①------VXDIAG GM professional Diagnostic Tool Fully compatible with GM vehicle SAE-J2534-1 & SAE-J2534-2; ②------Because Antivirus software cannot recognize and regard VXDIAG software as virus, so, please shut down the antivirus software before you install software, hope you can accept, thank you.
---[Connection]---:Quick access to vehicle data for maintenance or management reports, quickly attaches to vehicle's diagnostic connector. Connect car and device via 16pin OBDII port, connect device by USB cable/ WIFI
---[Protocols]---:The software of VXDIAG VCX NANO for GM includes two parts: tech2win and GDS2. Version of tech2win: V33.003; Version of GDS2: V2016.1.0 ; Mixed fleet capabilities with broad protocol support, All current and most legacy vehicle protocols: CAN, UART, KW2000, Class2,for GM LAN, etc.
Bestseller No. 7
ScanTool OBDLink SX USB: Professional Grade OBD-II Automotive Scan Tool for Windows – DIY Car and Truck Data and Diagnostics
PROFESSIONAL GRADE SCAN TOOL: Transform your Windows PC, laptop, or tablet into an accurate automotive diagnostic device (not compatible with Apple iOS devices)
DIY VEHICLE DIAGNOSTICS: Save time and money by reading and clearing 'check engine' and trouble codes yourself and determine problems before consulting a mechanic
FREE FIRMWARE AND SOFTWARE UPGRADES: System includes OBDwiz diagnostics software for easy to access graphs, logs and real-time engine data exports
MAXIMUM VEHICLE COVERAGE: Works on more vehicles than any scan tool on the market including all 1996+ cars and light trucks sold in the USA (except hybrid or electric vehicles)
SATISFACTION GUARANTEED: Your ScanTool is supplied with a 90-day money back guarantee if you are unsatisfied for any reason, along with a 3-year repair or replace manufacturer warranty
Sale
Bestseller No. 8
Sale
Bestseller No. 9
OTC 3896 Bosch Evolve Diagnostic Scan Tool
LARGE, BRIGHT DISPLAY: Rugged, 10.4 inch screen is the industry's largest and brightest
WIRELESS CAPABILITIES: Dual Wi-Fi architecture provides a secure, wireless VCI connection and reliable Internet connection. Move freely around the vehicle and shop with confidence
WIRING DIAGRAMS INCLUDED: Includes full system wiring diagrams, not offered on any other scan tool in the market
IDENTIFIX FREE TRIAL: 60-day Identifix Direct-Hit free trial
J2534 COMPATIBLE: J2534 compatible device for emissions-related ECU reprogramming and reflash
Bestseller No. 10
Bosch Automotive Tools 3970 Diagnostic Scan Tool
Full system coverage for Domestic, Asian and European vehicles covering all makes/models
Robust and versatile tool provides complete diagnostics including: Auto ID VINs, read all DTC types from all controllers, view data PIDS, perform bi-directional controls, calibrations, resets, relearns, and more
Wireless VCI allows for freedom to move anywhere in the bay and stay connected to the vehicle; industry leading full color wiring diagrams simplify tracing and troubleshooting
J2534 pass-thru hardware expands your diagnostics into programming; built-in Wi-Fi and Firefox provide full browsing capabilities
Ultra-crisp 10" high-resolution display for optimum viewing in all lighting conditions; 5MP cameras front and rear allow photos for sharing and inclusion in vehicle scan reports
Last update on 2020-03-29 / Affiliate links / Images from Amazon Product Advertising API
Last update on 2020-03-29 / Affiliate links / Images from Amazon Product Advertising API